A bit about our team...
We are a small, hard-working, family oriented steeplejack company based in the outskirts of Cleveland, OH. We built our company with our direct approach of honesty, knowledge and dedication to find our success since 1994.
CIS Steeplejack has been committed to providing quality workmanship and steeple jack services "Nationwide" for over 25 years. We continue to retain highly skilled individuals who are routinely educated in safe, efficient and proper methods and techniques. A hand picked crew of master riggers, professional experienced tradesmen will remain on site to see your project thru from start to finish. We are a knowledgeable team with many years of experience. We are dedicated to help you preserve your structure for a lifetime…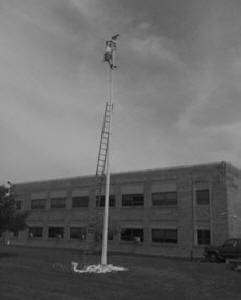 Veteran steeplejack and company owner Michael A. Hardin Sr. has traveled much of the country providing proper and professional church steeple, dome and cupola restoration as well as an array of other historical preservation and repairs, also, pre-bid consultations as well as knowledgeable and thorough inspections. He has provided high quality, on-time and on-budget repair, restoration, roofing, painting, cladding and gilding projects for a countless number of churches, cathedrals, property owners, schools, municipal buildings, governmental facilities as well as professional stadiums, resorts and entertainment parks.
"Large or small scale preservation & repair solutions, professional inspections, accurate assessments, knowledgeable consultation and punctual project managing, we have what it takes to do things right"
Michael graduated early in 1986 from vocational school and went directly into the field of historical restoration and commercial / industrial building repair. While working on radio towers, stadium lights and flag poles was daring and exciting, his real passion fell towards repairing, restoring and preserving steeples, domes and cupolas and other meaningful and beautiful architecture. When Michael is not busy during his travels and work, he is spending quality time with his family and friends. As a dedicated musician / recording artist, he spends some of his time working on various music projects.
His wife and most important business counterpart Magi, has 20 years experience in small business management and customer relations. She graduated in 1996 and went on to obtain degrees in small business law, management, accounting, as well as veterinary medicine. When Magi isn't busy trying to keep everything in line, she is also spending time with the family.
Together with the years of experience and knowledge, without to mention our dedicated team of steeplejacks, we are able to take on any type of large and or small scale projects including church steeple repair and painting, slate and cedar roofing, church steeple restoration, renovation, preservation and as well as other historical ornamental fabrications and repairs even modern day fiberglass steeple repair with nothing but pure confidence. Our projects are performed with dedication, experience, knowledge and honesty from start to finish. We use the very best, most "proven" materials and methods available. We take each unique project a step above and beyond your satisfaction.
Feel free to contact us today for more information about us and or our services. We look forward to working with you.
Thanking you in advance.
CIS Steeplejack LLC, Family & Team